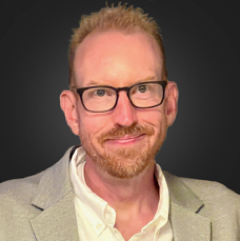 I'm David Putney. My day job is a UI/UX designer at a Boston-area digital consulting firm. Before that, I spent about 20 years in newspapers in the US and overseas.
For those two decades I mainly worked as a print designer and editor. I was co-founder of a popular, award-winning, tragically doomed daily newspaper. After that I became an internet producer and online news designer. Most recently, I designed and built websites for a large, Boston-area media company.
I have a wide range of skills and experience. I've been fortunate enough to redesign two newspapers and design a third – both visuals and content – from scratch. I've been manager as well as a worker bee.
On the digital side, I do UX/UI and visual design, UX testing, sprints, agile, – all that stuff. I love to build as well as design, and as such I am proficient in HTML, CSS and JavaScript.
Through the years I've built more than a few versions of the Davidputney.com site. This is probably the sixth or seventh since 1999. I call this the "circa 2014" version. Although it really isn't that version any more. I've completely rewritten most of the site, redesigned it and moved to a different blogging platform in the past couple years.
This site is very fast. It was made to be that way. It is an opinionated site in this regard.
A site can be made fast a couple of ways. A designer/developer can strip away any artifice – photos, typography, interactions – brag that they have a "Brutalist website" and call it a day. Or they can include all that, optimize those things to be as light as possible and then carefully architect the site to load fast.
Lightness is indeed a virtue, but isn't the only user experience that is important. So I've chosen the latter path.
I've used web-speeding techniques such as inline-SVG sprites, inlining critical-path CSS, async WOFF and WOFF2 font loading using session storage and async CSS loading. HTTP2 will make this all obsolete shortly, but until then, that's how it's done.
This site is built on Jekyll, which means fast-loading, flat HTML pages and none of that "database and gigantic, complicated server CMS" rigamarole just to publish blog pages or that "Oh shit, I didn't cache!" nonsense.
If you actually feel like rooting around in my source code, or even running your own guerrilla version of Davidputney.com, head over to Github and git clone to your heart's content.
For the font geeks out there, the script front in the header is Lavenderia, the serif headline font is Ginger and the body copy is set in Droid serif.
This site contains a blog. I write here about various topics of interest to me. Any views expressed here are my own and not of my employer, both current or former.